His/Her Words Of Love
A possible insight into what your partner means when they say....Anything!
Are you enjoying yourself and having fun at this London dating site? Are you discovering and meeting lots of interesting, attractive single people in London? But sometimes having trouble understanding exactly what your potential or wannabe partner means when you meet or talk to them? Don't worry. Now there is a book which will explain it all. Well, which will explain at least a little. Words of Love - "The World's First Lexicon For Lovers" - is designed to enable both him and her to understand the nuances and sub-plots of each others' conversations. It provides clear, albeit outrageous explanations of what both sexes REALLY mean when they say this or that. To find out what your lover is actually trying to say to you, just click on any of Her Words on the left hand side of the page or His Words on the right.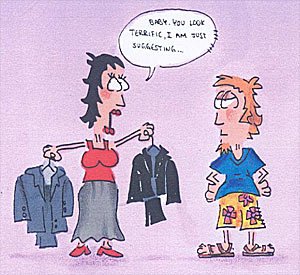 This insightful lexicon of love will give you a fresh perspective on your current or future relationship - just remember to keep your tongue firmly in your cheek when you read it!
The author and illustrator are writer/actor Terence Doyle and artist/photographer Markus Ziegler. It normally retails for £9.99 but is available to members of, or visitors to this London dating site for just half that, £4.99. To order your copy, click here.